Membership Acknowledgement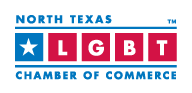 Thank you for your interest in the North Texas LGBT Chamber of Commerce. Membership is available to all legally formed businesses that support the Chamber's Mission and agree to adhere to our Standards of Business Conduct & Ethics.
By completing and submitting the Membership Application you agree to the following:
Opt into the Chamber's SMS texting system. Members may opt-out by replying "Stop" to any text.
Confirm that you are the owner/manager of this business with the authority to enter into contracts on behalf of the business.
Agree to abide by the Chamber's Standards of Business Conduct & Ethics.
Have read and understand the Chamber's Privacy Policy, website Terms of Use, as well as all current and future policies set forth by the Board of Directors.
Authorize the Chamber to publish your name, image/photo, and business information in the Chamber's newsletter, online directory, print directory, and other publications.
Understand that the Chamber will use your email address for sending general communications and invoices.
Membership Applications are subject to administrative and Board approval.