Brand Standards
The North Texas LGBT Chamber of Commerce has specific guidelines for the use of its logo, as well as the Chamber Member logo. You may download a PDF of the Chamber's brand and logo standards here.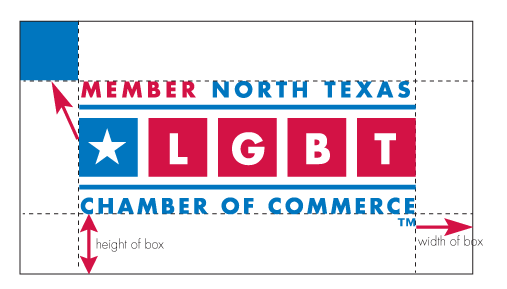 Chamber Members are encouraged to include the Member Logo on their websites and display advertisements.
The brand and logo standards for the Chamber's corporate logo apply to the Member Logo as well. Click on the link to the left to download the brand and logo standards document. When in doubt, please contact the Chamber office at 214-821-4528.
The Chamber Corporate logo is limited to specific uses approved in advance through the Chamber office. 
Please call 214-821-4528 for details.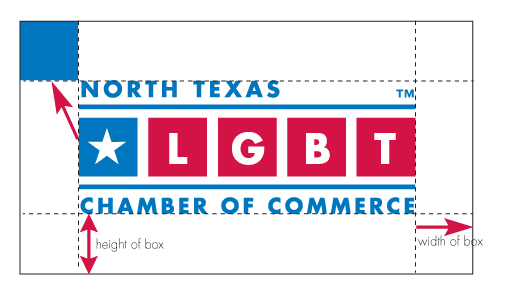 To protect our brand's integrity, a defined "clear space" surrounds our logo. No other image or text should appear in this area. The solid line around the logo indicates the clear space. However, the solid line box should not appear when the logo is used. The unit of measurement is determined by the boxes contained in the graphic elements of the logo. If the logo is resized, the clear space should be resized proportionally.
| | | |
| --- | --- | --- |
| Member  Logo | | Corporate Logo |
| | | |
| | | |
Blue C100; M46; Y0; K0
Red C0; M100; Y63; K12
Member Logo

Corporate Logo

BLACK

JPG

JPG

PNG*

PNG*
Red = #BA122B     |     ​Blue = #0066B0
* PNG logo files are formatted with a transparent background.
Please contact the chamber if EPS logo file is needed.