Since 2005 the North Texas Lesbian Gay Bisexual Transgender Chamber of Commerce has been the premier business organization for the LGBT community in north Texas. The Chamber is focused on the economic vitality of our area, our community, and the success of our members. We work to improve the economic vitality of our region and support the positive attributes of a diverse workplace, supply chain, and community.
Our Mission
To foster an inclusive business community that promotes economic vitality, connects members, and advocates on their behalf. We work to achieve equality through business.
Our Vision
We envision a global society where individuals and businesses have equal rights, equal representation, and equal opportunities.
Our Values
Diversity & Inclusion

Community Partnerships

Leadership Development​

Full Equality

Service & Recognition

Open Dialogue
Standards of Business Conduct and Ethics
Members of the North Texas LGBT Chamber of Commerce strive to recognize, promote and improve the lesbian, gay, bisexual, transgender business community, and to that end agree to be bound by these Standards of Business Conduct and Ethics.
Chamber Members . . .
Will conduct business with honesty, integrity, and fairness with respect to customers, clients, and employees alike;

Will be accessible and accountable to customers or clients, and make every reasonable effort to act with the customer's or client's best interest and benefit in mind;

Will not discriminate on the basis of race, religion, national origin, age, disability, sex or sexual orientation, gender identity and/or expression;

Will be responsible at all times for truthful and non-deceptive advertising and promotion regarding the business and its products and/or services;

Will not use or condone advertising which is untrue, misleading, deceptive, fraudulent, falsely disparaging or competitors, or which contains insincere offers to sell, nor advertising which, as a whole, may be misleading or result in misrepresentation by direct statement, inference or omission;

Will conduct business with strict adherence to the laws of Texas and to the business of professional codes existent for the particular business or profession and in accordance with generally accepted business practices;

Will support the ideals and goals of the organization, as well as support the LGBT community in general, in a constructive and positive manner.
Affiliations
The North Texas LGBT Chamber of Commerce is proud to be affiliated with local, state, and national organizations that represent the highest professional standards in the chamber industry.
National Gay & Lesbian Chamber of Commerce


The National LGBT Chamber of Commerce (NGLCC) is the business advocate and direct link between LGBT business owners, corporations and government. Nearly 50 state and local lesbian, gay, bisexual and transgender (LGBT) chambers of commerce and business organizations are affiliated with the NGLCC allowing it to represent the interests of the more than 1.4 million LGBT owned businesses in the United States.
The NGLCC is the only national advocacy organization dedicated to expanding the economic opportunities and advancements of LGBT business community. It is the exclusive provider of LGBT Business Enterprise (LGBTBE®) certification, providing expanded opportunities and exposure in the corporate and government procurement process. NGLCC is the largest LGBT business development and economic advocacy organization in the world.
The NGLCC works with state and local chambers and business groups on various issues. Most importantly, the NGLCC is the premier advocate on behalf of LGBT owned businesses, professionals, students of business, and corporations that share in our desire to expand the community's financial opportunities, economic growth, continued innovation, and equality.
United States Chamber of Commerce

Representing in excess of 3 million businesses, the United States Chamber of Commerce is the world's most expansive Chamber organization supporting companies from a diverse commercial arena. "As the voice of business, the Chamber's core purpose is to fight for free enterprise before Congress, the White House, regulatory agencies, the courts, the court of public opinion, and governments around the world. "
Ranked among the top five most respected organizations in Washington, the Chamber is dedicated to supporting its business members through extensive lobbying efforts to key policy makers. Key initiatives focus on education, training, infrastructure, energy and workforce solutions. Small businesses of 100 employees or less dominate the Chamber's membership. Devoted to advancing the agenda of its business membership, the United States Chamber is focused on educating the voting public, encouraging constituents to vote and moving favorable business legislation forward on Capitol Hill.
Association of Chamber of Commerce Executives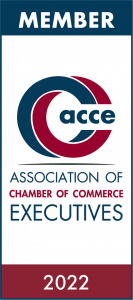 A national organization dedicated to the support of Chamber management throughout the United States, the Association of Chamber of Commerce Executives (ACCE) is focused on serving, educating and developing Chamber professionals to better serve their business members and communities.
The ACCE boasts a membership of more than 7,800 in 1,400 regional, state and local chambers of commerce. Focusing on its mission to "support and develop Chamber professionals to lead businesses and their communities," the ACCE provides education opportunities, best practice models, leadership building, strategic development plans and a variety of Chamber resource tools. It is their goal to maximize the professional development of Chamber management and staff, enabling them to better serve their business and community members.
Texas Chamber of Commerce Executives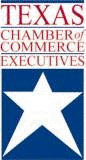 Since its inception in 1906 as the Texas Commercial Secretaries Association, the now-named Texas Chamber of Commerce Executives (TCCE) has been devoted to improving the business climate in Texas. An organization of Chamber executives from throughout Texas, TCCE has fostered its mission "to enhance and promote the professional growth and competency of Chamber of Commerce professionals."
TCCE strives to advance the professional development of Chamber members within the state. Development programs include government affairs, policy and administration, economic development and strategic planning.
North Texas Chamber of Commerce Executives

North Texas Chamber of Commerce Executives (NTCE) provides chamber executives in the North Texas region with resources designed to strengthen their organizations, their staff, and their local communities, as well as the entire North Texas Region. Resources include professional development, continuing education, peer support, and advice. NTCE member chambers share the same values: Collaboration, Professionalism, and Continuous improvement.